NEWS
2023 March 23
KOYORI ANECDOTES: GAMFRATESI
After inviting Ronan & Erwan Bouroullec, we started searching for one more designing partner who understood traditional techniques, design structures and approaches, and who was also skilled in transforming them to create new values and designs. The obvious choice was GamFratesi. They have great woodworking skills, thorough knowledge of old materials and techniques, and understand the value of redesigning and can apply that understanding in their own designs.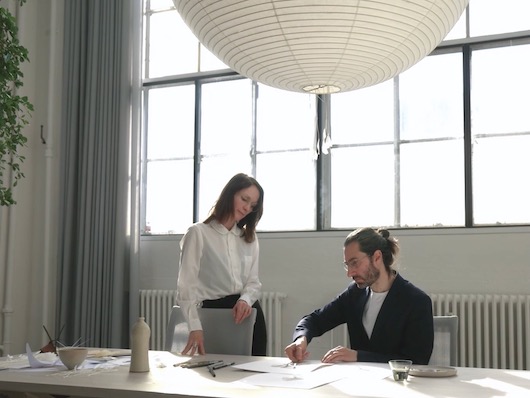 2023 March 9
KOYORI ANECDOTES: RONAN & ERWAN BOUROULLEC
KOYORI is a brand created for forming an alliance with several leading Japanese furniture manufacturers. We knew that companies that KOYORI would be collaborating with would be traditional Japanese companies with a very long history. That is why we wanted to appoint designers who would be good at creating new things. When we looked around in the design industry for designers who were always trying to incorporate something novel into their designs, such as new designing ideas, new materials, new techniques, new structures, and new ways of thinking, there was only one candidate we could think of - Ronan and Erwan Bouroullec.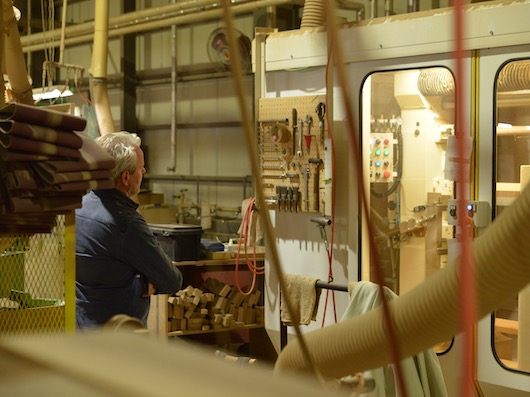 2023 February 24
KOYORI ANECDOTES: PHILOSOPHY
"Embodying the true Japanese Aesthetics": This is KOYORI's philosophy.
In Japan, it has always been believed that brilliant beauty is inherently exclusive to truly useful objects, as in, first and foremost, practical products used daily. Products must be functional, reliable, durable to withstand everyday use. In addition to superb material quality however, they must have cognitive appeal or beauty that brings joy to those who utilize them. We must ensure the product has the kind of beauty that allows its users to feel joy upon use. This beauty can be found in the tiniest details, and it is the diligence and dedication given to these details that is the foundation of aesthetics to Japan and its people.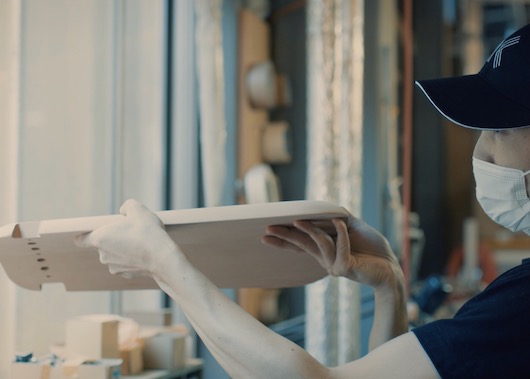 2023 February 9
PRODUCT STORY: MUSUBI ARMCHAIR
The design of Musubi Armchair emphasizes the beautifully yet efficiently sculptured parts of wood. The backrest, arms, and the seat are all like sculptures, assembled as one in a unique curved shape.
The manufacturer of the Musubi Armchair specializes in solid wood bending techniques and is one of Japan's oldest and most well-known furniture manufacturers. They have a legacy of over hundred years of creating wooden furniture.
The rich organic shaped back and armrests are connected in a unique way that resemble knots. Hence the name Musubi, which means "tie" or "knot". These joint technique with high precision, also contributes to maintaining the chair's durability.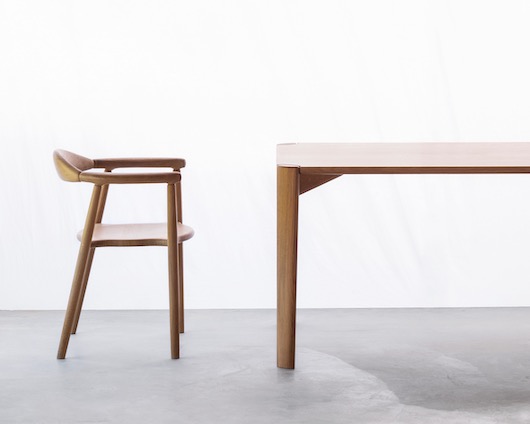 2023 January 26
KOYORI ANECDOTES: THE BEGINNING
The KOYORI launch project started in 2019, one year before the pandemic began. The unprecedented outbreak of the pandemic was completely unexpected, and we couldn't help but being concerned about what would happen next. However, on the contrary, the pandemic has fortunately made our preparation period easy to sail through.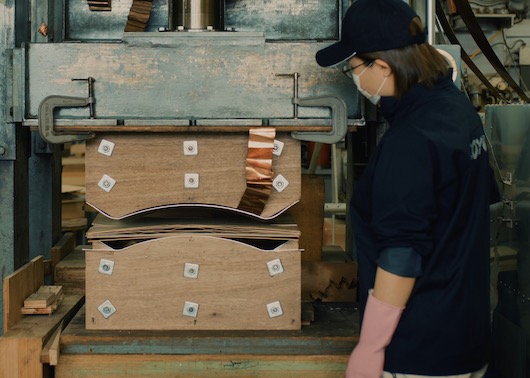 2023 January 12
KOYORI ANECDOTES: WHY KOYORI STARTED
There are many furniture manufacturers in Japan, but only few of them have been able to establish their brands in overseas markets. Although many manufacturers in Japan have excellent manufacturing capabilities, it is very challenging to expand their products overseas, partially due to the lack of necessary know-how and language skills.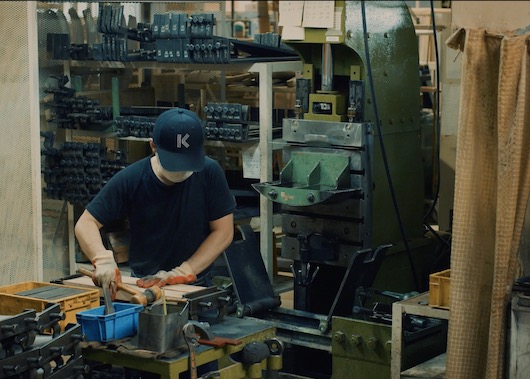 2023 January 6
Wallpaper* Design Awards 2023 : KOYORI is the winner of "Best Seats"

KOYORI COLLECTION 2022, launched during Milan Design Week won the "Best Seats" category in Wallpaper* Design Awards 2023.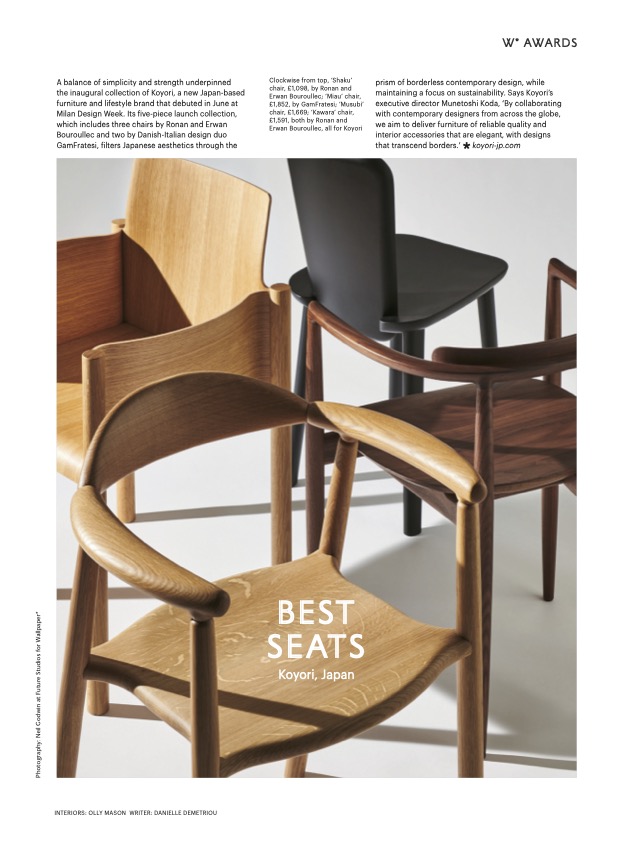 2023 January 6
EDIDA 2023: Musubi Armchair has been nominated in Best in Seating by Japan Edition

Musubi Armchair designed by Ronan & Erwan Bouroullec has been nominated for EDIDA 2023, Best in Seating.
2022 December 28
Wallpaper*
2022 December 22
Seasons' Greetings and Best Wishes

2022 was the debut year for KOYORI. We have had a very productive year and are grateful for many treasurable encounters. In 2023, we will continue offering products that would add new value to our everyday lives, and at the same time, showcase the heritage and aesthetics of Japanese craftsmanship to the world.

KOYORI office will be closed during 24 December, 2022-4 January, 2023 for winter holidays.